I'm originally from Marion, Ohio and came to Dayton to study art at the Dayton Art Institute. I totally loved attending the art institute and made some life long friends that I'm still in touch with to this day. We all graduated back in early 70's and I'm sure you can imagine what fun we had back then. I met my wife at the art institute and we have been married 40 some years, have had two boys and now have a couple grandkids that are just the best ever. We now live in Xenia, Ohio which is where my wife was raised.
I studied graphic design and after graduating I spent two years in the Army. Then after the tour of duty I got my first job at an advertising agency in Dayton. Back then (the old days) we did a lot by hand. We mocked up designs using magic markers and press type to show the
client. I started doing some small projects as a freelance artist and soon left the agency and was on my own. I worked out
Larry Hensel
photographic artist and graphic designer
of the house for several years (still do) and then I also have had a couple full time jobs as well as continued the freelance work.
It's been amazing how the graphic design industry has changed over the years. As time went on I slowly left all the hand work behind and learned how to use the computer. Technology is wonderful and the programs just keep getting better and better. It can be difficult to keep up (for an old guy). I love working with people and getting their ideas down into a visual that they are proud of and excited about using in their business. I've had some great clients and some are still with me.
So if you have a need for some graphic design feel free to contact me using the contact me form. Let's get together and design something just for you.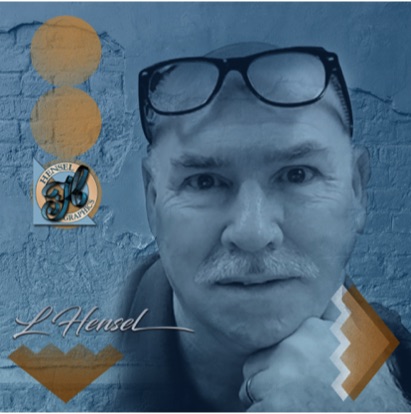 Larry Hensel, Hensel Graphics photographic artist and graphic designer • Xenia, OH