Logos can be a fun and exciting way to make your company, family business, or special event stand out. Designing a logo can frustrating and a pain staking project. So I always enjoy working with the client and discussing some details of what they might have in mind. I take there ideas and thoughts into consideration when designing and usually come back with several options.
Here is just a few that I have done recently.
Larry Hensel
photographic artist and graphic designer
Larry Hensel, Hensel Graphics photographic artist and graphic designer • Xenia, OH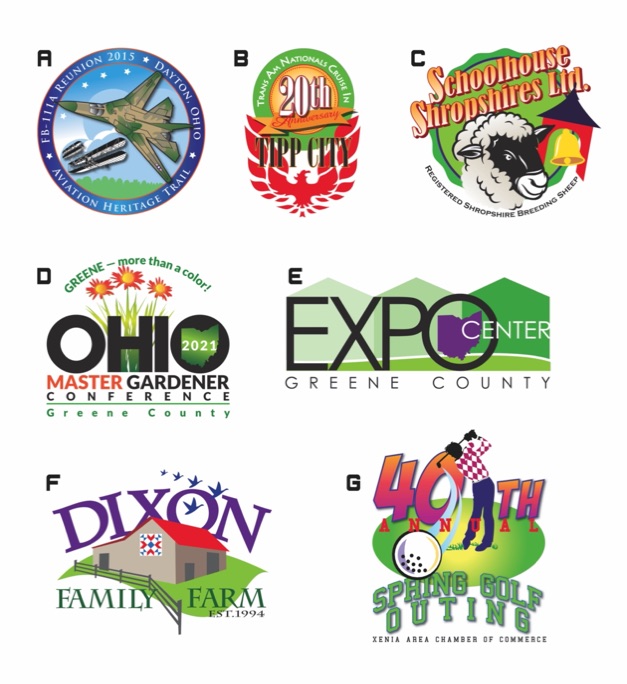 A. FB-111 Reunion Association wanted to develop a logo or emblem that they could use in their mailings, on their web site and have a patch made to give to the members attending the event.
B. The TransAm Nationals Car convention has a cruise in to the town of Tipp City and this was the 20th anniversary. The group was looking for a logo design that was colorful and fun and something they could print on t-shirts.
C. Schoolhouse Shropshires Ltd. is a local breeder that was looking for something a little different. Being a registered breeder is big business and they wanted something professional.
D. The Master Gardeners have a conference every year in the state of Ohio and Greene County was the host for 2021. The local committee asked me to develop a logo they could use to help promote the up coming conference.
E. The Greene County Fairground had wanted a new logo to help promote the venue. With several new building they were attracting new events to make use of the buildings available. Calling it an Expo Center seems the logical step.
F. The Dixon Family Farm is a small producer of specialty grain feed cattle that processes the meet for sale. They were looking for something friendly, colorful and that had a representation of the barn.
G. The 40th Annual Spring Golf Outing was a special event for the Xenia Area Chamber of Commerce. They wanted something new and different then anything they had before.